Fair Friend E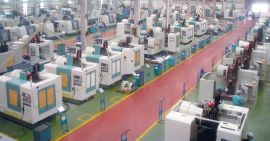 nterprise CO., Ltd. was established in 1979 as a distributor for a Japanese steel and construction machinery company. With the company's diversifying business strategy and strong dedication of all employees, the company has grown steadily ever since. Today, Fair Friend has successfully transformed itself from one single business to a diverse group of individual companies. Operations have constantly expanded from domestic to international markets. To achieve the goal of enterprise globalization, Fair Friend's production base now includes: Taiwan, Hong Kong, China, Japan and the USA. Fair Friend's wide range of products cover machine tools, pneumatic tools and equipment, construction machinery, PCS, display monitors, forklift trucks, and etc. Fair Friend will continuously pursue growth, just as we did in the past. Our outstanding global resources will contribute to Fair Friend's continuous growth.
Machine Tool Division of Fair Friend Group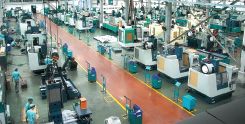 FAIR FRIEND GROUP MACHINE TOOLS DIVISION Fair Friend Group's current major manufacturing operations are in Taiwan, China, Japan. These facilities provide a total annual output of 5,000+ units of CNC Machine Tools. Fair Friend is the one and only manufacturer in Taiwan to produce more than 2,500 units of CNC Machine Tools per year. However, we are not complacent with our current achievement as the leading Taiwanese and Chinese producer.
We are striving hard toward our goal of producing an annual output of 25,000 CNC Machine Tools by 2010.
Company philosophy

Satisfying customers are always utmost important to us at Fair Friend. Through listening and anticipating our customers needs, Fair Friend strives to always provide the most efficient and precise machinery. Fair Friend's continuous breakthrough efforts in R&D ensure that our customers are always offered the best machinery possible. Customer satisfaction is at the core of everything we do at Fair Friend.

Fair Friend Ent. Co., Ltd
plant in Taichung (TW)

Plant in Dajia (TW)

Plant in Nantun (TW)

Sanco Machines & Tools
corp. plant (TW)

Leadwell CNC Machines Mfg.,
Corp. plant (TW)

Hangzhou Good Friend
Precision Mach. plant (CN)

Xiasha park (CN)

Fair Friend Technology
Park (CN)

Saginaw Machine System
plant (USA)

EMC Co., Ltd. plant (JP)