Steam boiling chamber UNIPAR U3-E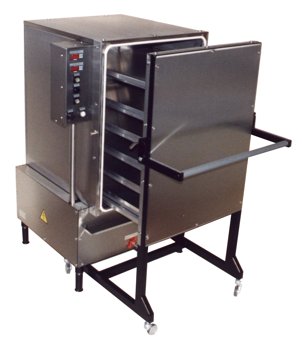 Steam boiling chamber UNIPAR U3-E is member of UNIPAR chambers and it is pressure free boiling device with electrical heating, controlled with adjustable time and temperature inside the chamber with automatic water refilling.

The chamber is designated for heat processing of food products, especially all types of dumplings made from proofed dough, for potato, rice, meat and meat products boiling, for sterilization and for food defrosting.

It is suitable for central manufactory of community feeding, canteens, eating places as weel as for restaurants. By the implementation of the steam boiling technology the productivity will increase compare to the water cookers, you will also save electrical energy and water. This chamber also contribute to the better working conditions and safety at work. It is primarily due to temperature reduction on the workplace, excessive steaming from water cookers reduction and the savings of the workplace. The quality of boiled food is also considerably improved by the boiling in the steam chamber.
Order codes

Description
Order code

Steam boiling chamber UNIPAR U3-E
(content of packaging see below)
4020 0301 5000 0000
| | |
| --- | --- |
| Charging cart | 4020 0320 0000 0000 |
| Plate with low edge 20 mm (aluminium) | 4020 0330 1010 0000 |
| Plate with high edge 40 mm (aluminium) | 4020 0330 2010 0000 |
| Profiled plate (aluminium) | 4020 0330 3010 0000 |
| Plate with low edge 20 mm (stainless steel) | 4020 0330 1020 0000 |
| Plate with high edge 40 mm (stainless steel) | 4020 0330 2020 0000 |
| Profiled plate (stainless steel) | 4020 0330 3020 0000 |
Content of packaging of steam boiling chamber UNIPAR
| | |
| --- | --- |
| Steam boiling chamber UNIPAR U3-E | 1 pc |
| Charging cart | 2 pcs |
| Plate with low edge 20 mm (aluminium) | 12 pcs |
| Plate with high edge 40 mm (aluminium) | 12pcs |